Report Writer
VisualRep is a query and reporting tool for developers and end users alike. It is TWO products in ONE:
A stand alone Ad Hoc report writer which can run by the end user from the computer desktop, or within an application.
An Object model for developers allowing them to easily integrate their application and run Queries and Reports.
It offers a broad range of features, including access to the most popular databases such as Oracle, SQL Server 2005, Visual FoxPro, and MS Access. VisualRep reads all data dictionary metadata directly from the specified Database, such as tables, relations, fields' name, fields' formats and captions. You can generate a report with the following outputs:
PDF, HTML, Word, Excel, XML, Text and Dbf file. For the PDF file there is no need to install the Adobe Acrobat. It could be the report writer of your choice. It is in expensive user friendly report writer.
Saves Time
A 95% time savings may be realized because complex reports can be created simply by selecting the tables and fields in a Wizard. In a few minutes you will be able to run a variety of reports with a minimum learning curve.
Search capability within the report
Imagine you have 400 pages in a report and you need to find a category some where in the report, all it takes one click and you are there.
Creates Relations on the fly
Selecting tables, such as Clients and Order, will automatically create the relation between the tables. VisualRep will inherit the database referential integrity and will create the SQL statement on the fly based on the tables and fields selection.
Wizard Driven
VisualRep's powerful Wizards will guide you step by step through creating a report or a query. There are three distinct functions :
Report Set Creation
Query Builder
Report Generator.
Each function is handled by its own Wizard.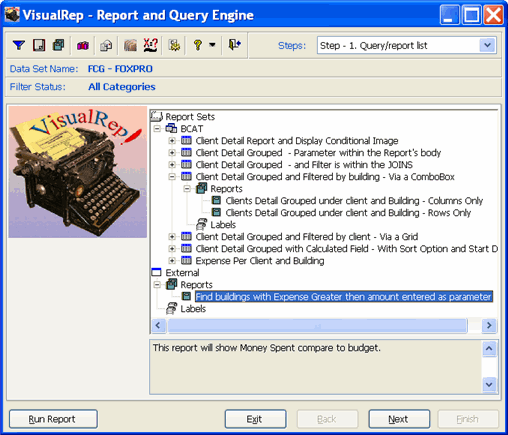 It offers the developer and user both ease of use and flexibility. Much of the manual setup required by other reporting tools is done automatically by VisualRep. Many setup and runtime features of VisualRep are missing in other reporting tools and this product is the answer for that.